Ladies, a storm of posts and memes once graced our eyes on social media about being "his peace."

I'm not sure how true this post is, becuase I, myself has never seen nary a clip of Denzel saying anything to this effect. But, this is one of the many memes that were floating around.
I, for one, think that is a lovely thing to be for a man.
However, …
Let's talk about what happens when he isn't our peace. When he decides he wants to disturb the calm in our stormless storm.
Case in point,

If you have not seen "A Thin Line Between Love and Hate" finish reading this blog post first, then go watch it. Next, slap yourself for depriving yourself from not seeing a gem of a film. Talk about a good conversation starter, that movie definitely delivers.
So let's talk about when we, as the beautiful, productive, independent, carefree women that we are, become stirred when we haven't asked to be. The double standard arises and suddenly we're the ones labeled wrong and crazy when we act on the fact that we're tired of being toyed and played with.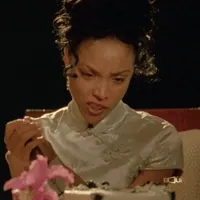 The older I get, the more I understand why Brandi did what she did. Her being hurt by Darnell was a breaking point. Brandi was tired of these no good men, flattering us with lies by going through extensive ordeals to please us all just to leave us high and dry in the end.


Sir(s), we don't ask to be bothered. If you know your intentions are to waste our time down to the millisecond, then please just leave us be.
Sir, don't stir me.
See, Sir, I was fine. Chilling in all of my lonesome.
Not asking you to cure me. Or deliver me from boredom.
Let me tell you how hard I was chilling. Don't mistake me for a resistor,
But I was in my zone so hard. I didn't even notice you, Mister.
You came up looking and finessing all good. Saying and doing all the right things, like a good man should.
But that was your gimmick, it was part of your game. And now that it's over, all of it was quite lame.
As a woman, I admit that I fell for it. Had me floating on top of clouds,
Enjoying the perks and all the animation. When in reality, love aint even loud.
It was you that played with me. Pretending and all that there.
But if those tables had been turned. You would've been quick to label me unfair.
I didn't even ask you anything. You came up to me.
Showboating and gallivanting. Like, me was with who you really wanted to be.
Shoo fly, get away, Get lost and let me be.
Again, I was fine by my lonesome. Please, Sir, don't you stir me.